Lucca and the surrounding area...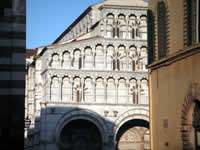 The « Lucchesia » region (province of Lucca) is famous for its outstanding olive oil, and is also, since the XVII century, well known for country holidays, since rich silk merchants invested in beautiful estates and gardens which can now be visited ("Le Ville Lucchesi").
Also, in the region surrounding Aquilea, numerous village festivals, fairs and open-air shows and concerts are organized each summer.
" Art is a way of life in this ancient civilization "
(Italian art)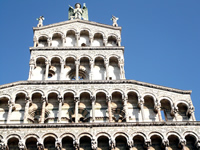 Lucca is best visited on foot or on a bike (which can be rented at the city gates) useful for touring the ancient walls of the city. Here you will see magnificent palaces, squares, towers and churches or visit Puccini's house. Puccini world famous summer opera festival is held nearby at Torre Del Lago.
The city also offers great shopping in its animated streets.
Whatever you are longing for...
- 400 m. from the property, in the village centre, you'll find a well stocked grocery – also the village bar- so after your shopping, you can enjoy a good cappuccino
- Twice a week, a greengrocer sells his produce from his truck at the entrance of the vicolo (200m. from the house)
- Down the hill – at Ponte a Moriano – you'll find the best ice-cream of the region as well as 2 trattorias, a pizzeria, a café and other shops. Next door, there is also a large supermarket.
- Aquilea is situated at 8 km. from Lucca
- At 30 km. from the beaches (Viareggio, Forte dei Marmi, etc)
- At 25 km. from Pisa
- At 30 km. from the Montecatini Golf Course (18 holes)
- At 70 km from Florence